Horizon Line is a monumentally scaled handmade artist book rooted in experiences of reverence and appreciation for the land, alongside consideration of the ways in which land may seem empty and limitless but is a the same time divided and subdivided by use and ownership lines. Utilizing photographs, satellite images, and altered maps, the book creates moments to pause and consider the impacts human development has on the land while remaining firmly rooted in a spirit of appreciation for and connection to our surroundings. Scaled to mimic the size of a human body, the book requires interaction and movement from the viewer, creating an embodied relationship with the images and thus the landscapes they represent.
Archival pigment prints on washi paper, noble stab binding
12" x 60" open
Edition of 7 + 2AP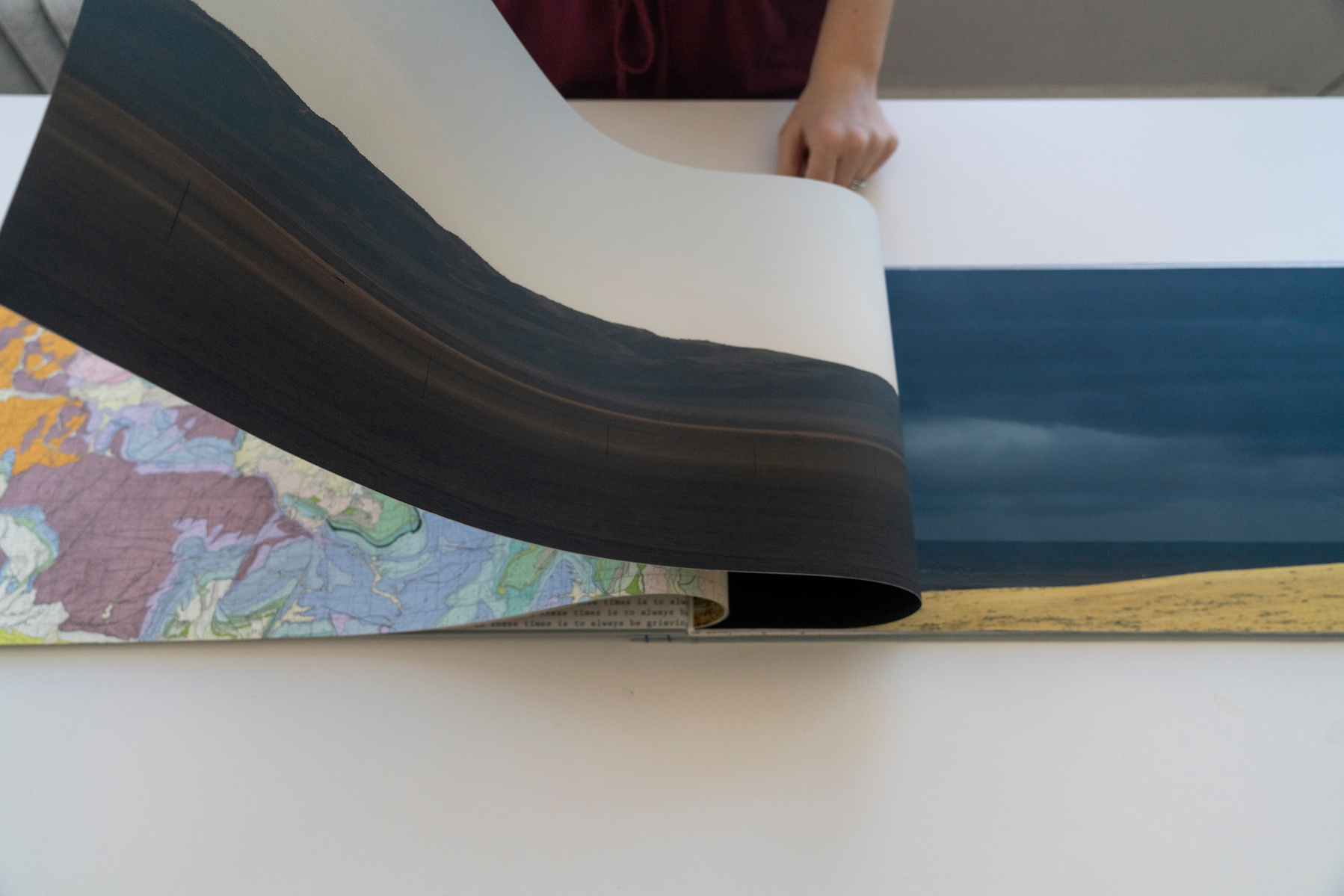 I, like many others, am deeply connected to the places I live in and find myself longing for more time spent in recognition of the sense of solace, joy, and belonging that can still be derived from the landscapes I am most familiar with. The impacts of the Anthropocene have already infiltrated much of the land I am connected to, shifting them in both clear and subtle ways. In addition to making images expressing the grief and loss of landscape, part of my artistic practice involves making images that are meditations on self in relationship to place, about the ways I experience the land and belong to the landscapes I inhabit. Collectively, I am always working at reconciling the land as both a place of joy and of grief.
People who feel a connection to any part of the earth or nature are well equipped to strongly empathize with the idea that the planet as a whole is their home, and can find endemic destruction in any area disturbing. As more parts of the earth become damaged and polluted, experiences of positive emotions in relationship to the earth become more difficult. And so we are left with more and more climate grief. Even as we seek out solace in nature, it is less able to provide such relief. If grief is the price we pay for love, then to love the land in these times is to always be grieving.